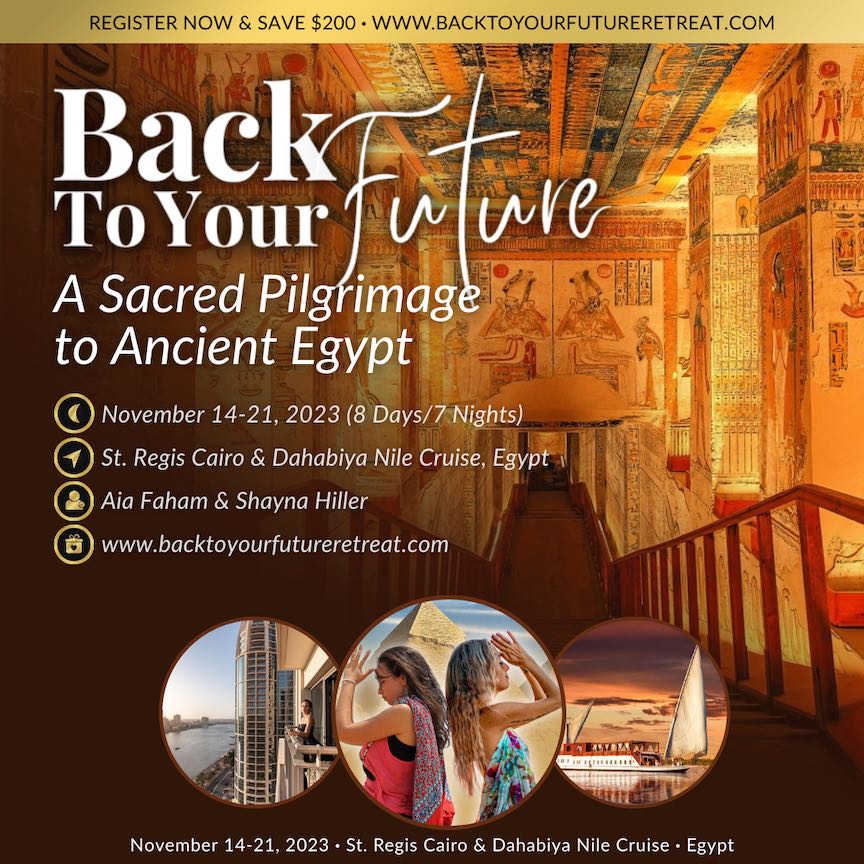 SOLD OUT – Back To Your Future A Sacred Pilgrimage to Ancient Egypt
Join an intimate group of Yogis, travelers, seekers and epic people from all over the world on a unique trip combining modern and ancient Egypt…
Pamper Yourself
We will begin our journey in Cairo at the luxurious St. Regis hotel and spend the first three days settling in, pampering ourselves, visiting the pyramids, enjoying private excursions and tours and getting a full on taste of Cairo, literally.
Did I say, best food ever?!
Take a Cruise Through Ancient Egypt
The next chapter of our pilgrimage commences with a flight to Aswan in South Egypt, where we will embark on a four-night private cruise down the Nile River, visiting the ancient temples.
Not only will you visit some of the most sacred sites on the planet, but you will learn the history of the Egyptian Archetypes and understand how to decode this Universal wisdom and apply it into your own life for enhanced health and vitality, prosperity, self-knowledge, creativity and personal growth.
Your Retreat In Egypt Includes
We will cover everything you need during your stay to feel like royals.
*International flights, upgraded tickets to special entrances (some tombs and King's Chamber at Pyramids) and any personal expenses are not included.
Luxury Accomodation
In St. Regis Cairo for the first three nights and then in Aswan in South Egypt for a four-night private cruise down the Nile River
Full Board Basis
Breakfast and dinner in Cairo, and full board in Dahabiya
Local Flights
Between Cairo and Aswan/Luxor
All Retreat Sessions, Workshops + Activities
With yoga and meditation teachers Aia Faham and Shayna Hiller
Transfers
To and from Cairo Airport on day of arrival and departure
All Excursions + Temple Visit Tickets
Including The Pyramids + the Great Sphinx of Giza, The Grand Egyptian Museum, Khan El Khalili + Coptic/Islamic Cairo (Old Cairo Bazar), Philae Temple, Temple of Kom Ombo, Gebel el-Silsila, The Temple of Horus at Edfu, The Temples of Karnak and Luxor and The Valley of The Kings + Queen Hatshepsut Temple
Very Special Planned Dinners + BBQs,
Private Guide In Egyptology,
& A Welcome Gift Plus, More!