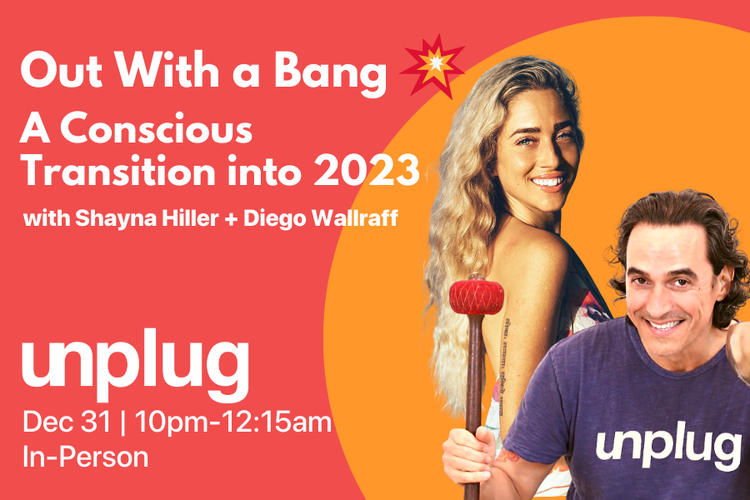 IN-PERSON: Out With A Bang💥 A Conscious Transition into 2023 with Shayna Hiller & Diego Wallraff
Please note the accurate times here! (10pm-12:15am)

Join Shayna Hiller + Diego Wallraff for our annual mindful New Year's Eve celebration at Unplug Meditation in Santa Monica… in person after 2 years! Come ring in the new year with intention, community and deep connection with self.
You will have an opportunity to reflect on your experiences over the past year in order to clarify that which you feel you are ready to release. Once that space has been created, you will be guided to tune in to what you are calling into your life in 2023. The more you align with the elevated frequency of your true desires and highest vision, the easier it is to bring them to life.
Our cozy conscious evening will consist of an intention setting ritual, then we will guide you in the activation of your intentions through a transformational breathwork practice, and then we will close out with a bang (literally; Diego's signature acoustic sound bath to soak everything up, support the integration process and prepare you to enter 2023 feeling inspired, relaxed and open to receive).
Empowered by the fusion of these potent practices, when the clock strikes midnight we will invite you to take your first new breath into the clean slate of 2023!

Please note the accurate times here! (10pm-12:15am)

Ring in 2023 with Shayna and Diego during this amazing NYE workshop!!

We will have snacks after and kombucha for a New Years toast!!!!

In-Person
SAT 12/31 | 10pm-12:15am-pst | Earlybird price $75 | Use code NYE23 | Price goes up on 12/15